What is self-administered pension?
As the name implies, self-administered pension is a self-managed pension, which is the only form of pension in which an individual can directly invest in real estate. The characteristic is that individuals can choose preferred investment projects and methods, and have greater control and flexibility over pensions.
Self-managed pension is one of the five major pension management methods in Australia with the largest market share and the fastest growth. As of2017years6monthAround Australia60Ten thousand active self-managed pensions, in control32.6%Share of the pension market.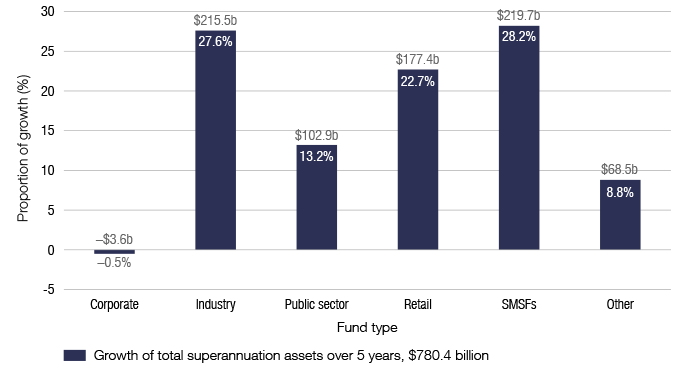 Data source:ATO
Did you know that the self – administered pension can be used for loan to buy a house?
Self-managed pensions apply to most forms of investment, including both residential and commercial property (not owner-occupied housing). Since the 2007 Since pension funds were allowed to borrow money for investment in 2007, it has become a more popular investment strategy.
Why use annuities to buy investment house?
1.

Investing in pensions has many tax advantages:
– 11/5000
Income tax on pension benefits only 15%, much lower than the tax rate of individual investment income 19%to 45%);
– If the asset is kept for more than one year, the tax on asset earnings is only 10%; If the asset is kept until retirement and sold, there is no income tax at all. (if it is an individual investment, then the asset appreciation part 50%Pay value added tax according to individual income tax rate, already 19%to 45%)
2.

Limited recourse loans.
Under the law, once the pension is unpayable, the borrower can only compete for the collateral used to finance the loan (the property that was purchased at the time) and not touch other assets in the pension's name.
3.

Small business owners can use their own pension to buy an office or warehouse and rent it back to their company.
You have your own commercial property and you can save a lot of rental return taxes without paying, or paying less capital gains tax.
Why do you want us to take care of your pension loan?
My Home Loan Can provide all available from the market pension loan Banks and products for your choice, let you choose the most satisfied one. More experienced self – managed pension loan team to take care of all aspects of your pension loan until smooth delivery.
Pricing of pension loan products:
civil residence can be borrowed at most 80%, 30 annual loan term, interest4.29%to 7.59%.
Commercial properties may be borrowed at most 70%, 20 annual loan term, interest low to 4.99%.
Welcome to call My SMSF Loan loan hotline 1300 990 166 option 1 our pensions loan specialist and you detailed communication.